Thank you for choosing TopRow!
Rowing is a healthy and complete outdoor sport that you can learn at any age and practice throughout the year. TopRow offers the Learn to Row courses all year round giving you the opportunity to pick up the oars. What a great way to get fit, have fun and enjoy the beauty of the Harlem River against the backdrop of the city! You will gain an insight into the world of rowing, learn the basics of the sport and enjoy the stunning scenery around the Peter Jay Sharp Boathouse, which is situated in Northern Manhattan.
Please note you are expected to attend all 8 sessions, unless previously discussed with the head instructor.
Overview of the course:
1 hour per lesson

Suitable for beginners/novices

Learn basic technique of sweep rowing (one oar) in theory and practice

Coaching and guidance by our rowing instructors

Rowing in stable rowing shells (LiteBoats)
Each course is 8 weeks long. Learn to Row 2 program picks up where Learn to Row 1 left off. Deepen your rowing knowledge and skills during this eight-week course.
When you have finished both of the courses Learn to Row 1 & 2, you can start a new challenge to take the Learn to Scull course!
Experience
No previous experience required
Duration
8 weeks
Commitment
1 weekly training of 1 hour each
Dates LTR courses:
Annual program
Cost
$299
Location
Peter Jay Sharp Boathouse
3579 Harlem River Drive
New York, NY 10034
map & directions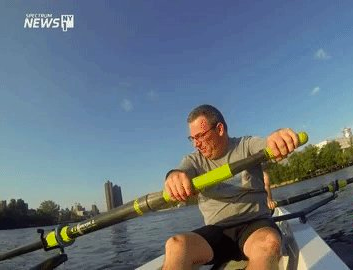 Learn to Row @ NY1
Would you like to know more about a first experience on the water? Roger Clark shared his first experience on the water with NY1.
Gives a great impression on our Learn to Row program.
What class should I sign up for if I have never set foot in a boat?
What happens after I complete the Level 1 Learn-to-Row and I want to take another class?
Sign up for a Learn-to-Row 2 class, an eight-week course that allows you to take your skills to the next level.
And after Learn to Row 2?
Join the Masters program! We have a recreational and competitive program for rowers who have prior experience or have completed Level 2 Learn to Row Class. We encourage Masters to commit to a season at a time of rowing at our Peter Jay Sharp Boathouse.
Do I need to know how to swim?
To join our adult rowing programs, yes. Rowing takes place on the water, and while falling out of the boat is very unlikely, it is possible. Therefore, each class participant must confirm that they are able to swim when they register for our classes.
Do you require a swim test?
We do not require adult rowers to pass a swim test. They must confirm during registration that they can swim.
What is the refund/credit policy?
No refunds will be given once the program has started. If you withdraw at least two weeks before the first session, you will be credited for the class, minus a $50 processing fee.
Do I need to attend all classes?
Since the skills you learn in rowing are cumulative, it is important that you make every effort to come to each class so you learn along with your group. You should send us an email (newyork@toprow.com) in advance if you cannot make a class.
Can I make up classes that I miss?
No, unfortunately, we do not offer make-up classes.
Do we still have class in inclement weather?
Yes! We row on the water in the rain and the cold, but if there is thunder and lightning or it is very windy, we train indoors on rowing machines. Classes will not be rescheduled due to weather.
What should I wear?
Layers are your best bet for cold weather rowing. Keep in mind that the clothes you wear will very likely get dirty so please wear clothing that you do not mind getting wet. It is best to wear form-fitting clothing like spandex. This type of clothing is less likely to get in the way while rowing.
Are there showers and locker rooms at the boathouse?
There are showers and a small changing room with a limited number of wallet lockers. Feel free to change once you arrive at the boathouse. Please bring your own lock.
Can I leave personal belongings in the boathouse while I row?
We provide a limited number of wallet-sized lockers for our adult athletes, but there is no guarantee that one will be available during the busiest times of the day. As such, please limit what personal items you bring with you to the boathouse. Row New York is not responsible for any lost or stolen items. Please bring your own lock.
Where can I park?
Parking at the Peter Jay Sharp Boathouse is not advisable, however, there are some limited streets to find parking.